Business Meetings
At Sky City Cultural Center, we offer several meeting spaces for small planning meetings or large-group presentations. Build in a tour of Old Acoma or the Haak'u Museum as part of your package and the Y'aak'a Cafe staff will provide all of your catering needs with traditional Acoma cuisine, or more contemporary Southwestern choices. 

Daytime Facility Use Fees

We can accommodate groups of 10 to 80 people with prices ranging from $100 to $500 per day. (Rates are subject to change without notice).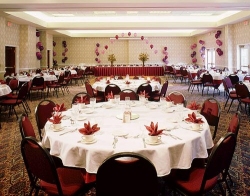 Evening Events

We can help you create special events or private receptions in our beautiful facility and meeting spaces. Our staff can host your special reception or dinner between 5 to 8 p.m., with prices starting at $500. (Rates are subject to change without notice).
For more information, please call or e-mail our Operations Manager Melvin Juanico at (505) 552-7861 or mjuanico~lksjdf~skycity.com .