Guw'aadzi Hauba, "Hello everyone" – Welcome to the Y'aak'a Cafe
Experience a taste of Acoma culture at the Y'aak'a Café, located within the Sky City Cultural Center and Haak'u Museum. Y'aak'a means "corn" in Keres, the language of Acoma.  Corn was farmed by the Acomans for centuries in the valley beneath the 367-foot mesa where we live.  It has sustained us for hundreds of years and is intertwined with religious ceremonies and art.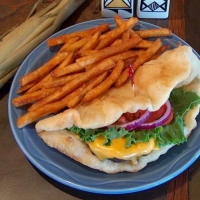 The Y'aak'a Cafe offers a diverse menu of Acoma traditional foods as well as contemporary American dishes prepared by our own tribal member. Large-paned windows provide natural lighting and spectacular views of the Pueblo and Cultural Center.  The covered patio offers respite from the sun and a venue for outdoor dining.  When winter ushers in frigid temperatures, the corner fireplace warms one's heart and soul.
Daily hours of operation are 9 am to 2:30 pm, March thru October, MST.