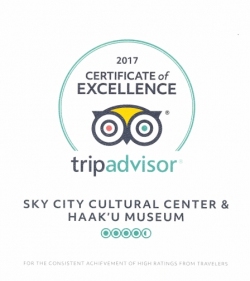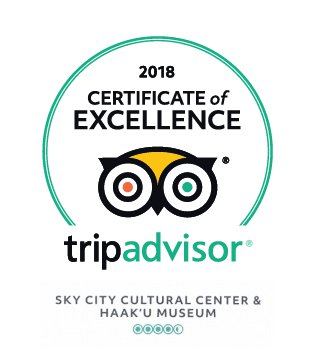 Beauty. Culture. Art....For More Than Two Thousand Years
Sky City Cultural Center and Haak'u Museum

rich in cultural architecture, serves as the reception center and museum for visitors to the Pueblo of Acoma. It is the gateway to Acoma "Sky City". Acoma Pueblo, New Mexico is more than just a tourist destination. Its part of New Mexico's cultural heritage, as the oldest continuously inhabited settlement in North America and the 28th Historic Site designated by the National Trust for Historic Preservation. Acoma history is also the story of the Southwest, from its initial role as the home to the Anaasazi people, to the thirteenth century founding of the Pueblo, which is still alive and well as a community and touchstone for Native Americans in the area and nationwide.

 ​
Our Sky City Cultural Center & Hak'u Museum is 

Open Friday's, Saturday's, and Sunday's - 9:00am to 4:00pm, until March 5, 2020. Pueblo guided tours will be held every hour on the half hour, beginning at 9:30am and last tour of the day at 2:30pm.

 

Closed Monday thru Thursday for visitation. 

We will accept group reservations for 20 or more people, in advance, for the closure and opening dates.

 

 

Tribal Officers Weekend is scheduled for Saturday & Sunday, February 8 & 9, 2020.
 

We look forward to your visit with us soon. Thank you.

 

 

 

On behalf of the Sky City Cultural Center & Haak'u Museum Staff, we wish you all a prosperous and safe 2020 New Year!
n